Sale!
Navty P1 Performance – Lifetime Edition
RADAR WARNING COMPARISON
RADAR SHOP RECOMMENDATION!

The new Navty P1: fully automatic speed and acceleration performance measurement + professional hazard warning for more safety and the risk of accidents. Performance measurement: 0-100 / 0-200 / 0-300 km / h or 0-60 / 0-120 / 0-180 mph
Currently the best multaradar service MRCD / MRCT / GATSO
Free updates with Windows / MAC / Linux via USB stick
Regular database and firmware updates included for life
Intelligent filtering of false alarms such as blind spot assistants
Display of exact frequency and segmentation for more performance
Recommended settings for beginners preset
RDD VG2 & Specter – electronically location-safe
2 year NAVTY guarantee
In stock
Kostenloser Versand bei Bestellungen ab 150 Euro
Zufriedenheitsgarantie
Unkomplizierte Rückerstattung
Sichere Zahlungen
NAVTY P1 – more safety, freedom and driving pleasure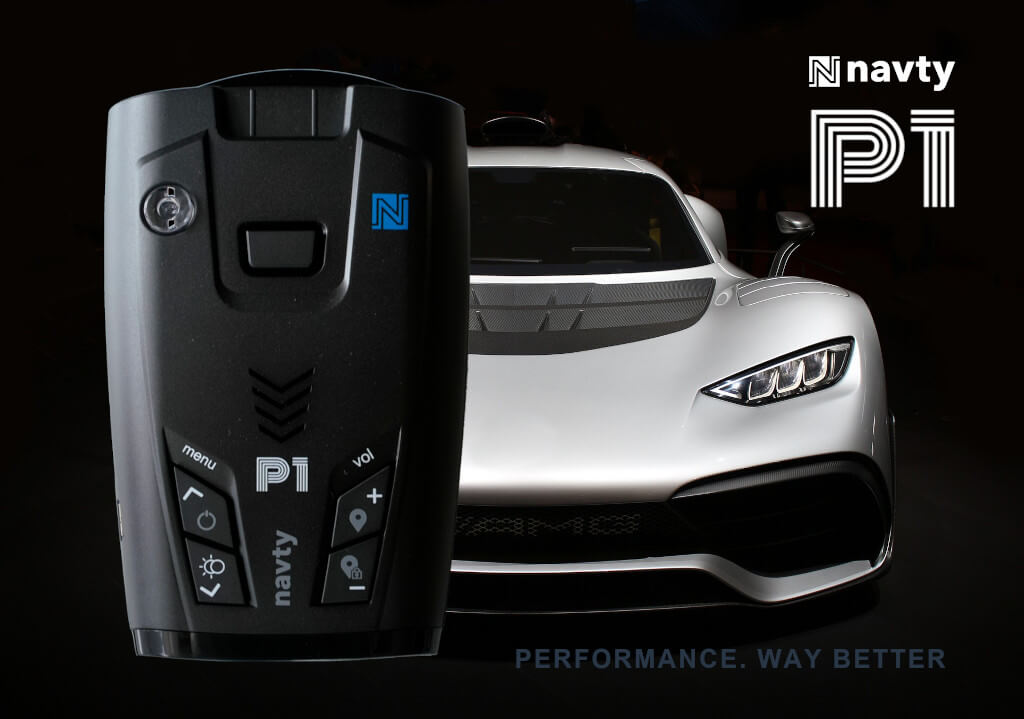 //// 0 – 100 km / h – 2.9s
Performance measurement – you get an exact measurement of your speed and driving performance via GPS. The acceleration measurement (0-100 / 0-200 / 0-300 km / h) takes place at any time and fully automatically. The real measurement data enable you to compare your vehicle data with the factory specifications or with other vehicles.
More protection. Less risk of accidents. Driving license and fine prevention.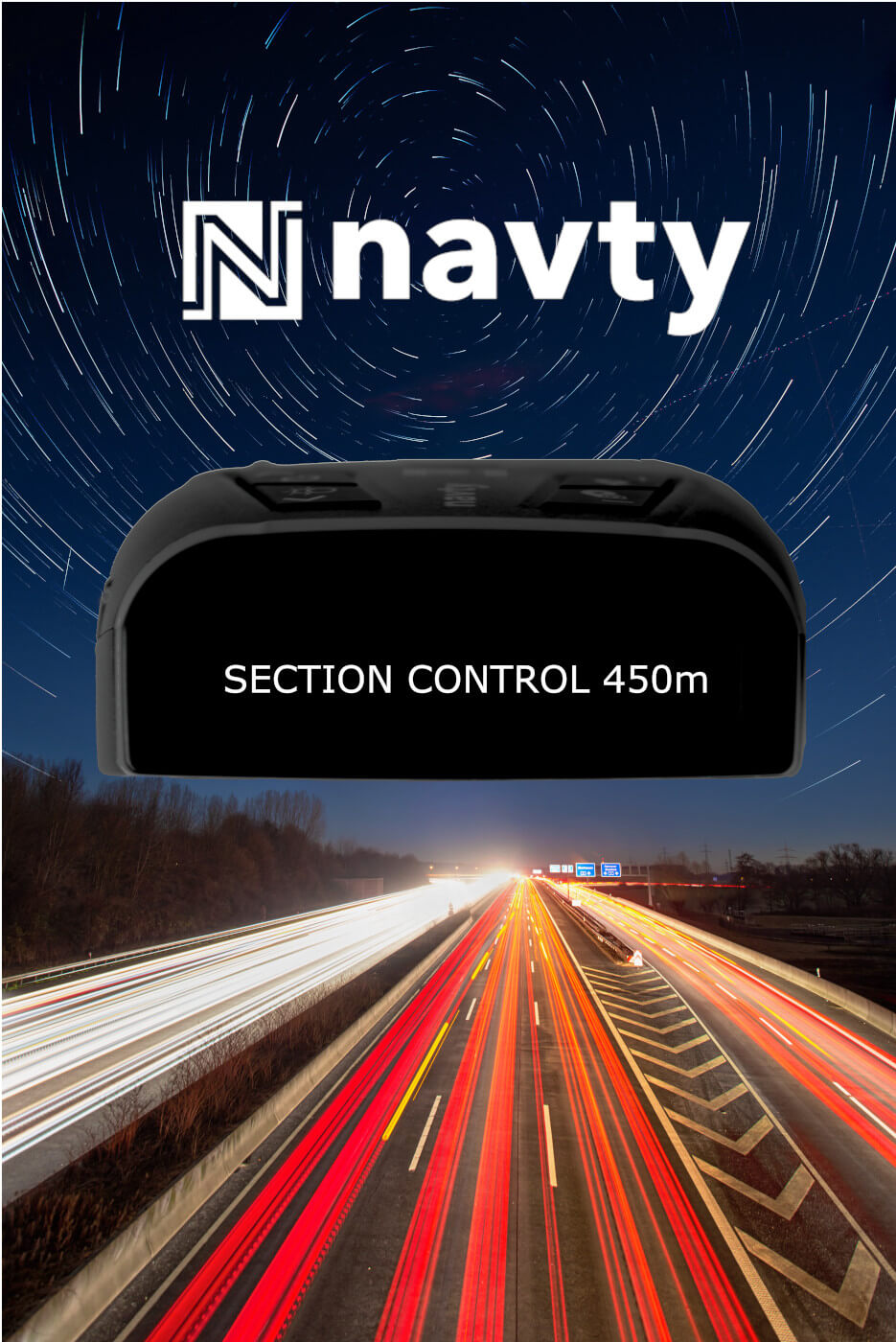 Protect your driver's license and save up to 90% fines. – With the free P1R firmware, functions such as danger zones, POI speed camera warning, 3D multaradar technology and laser detection can be activated.
Danger zones and traffic monitoring – our database informs you Europe-wide of danger zones and traffic monitoring such as fixed speed cameras / traffic light cameras / section control (route section controls). In addition, you can add and manage your own danger points.
High performance for more security
Real-time 3D performance radar and laser warning – with the free P1R firmware, the radar and laser warning function of the NAVTY P1 is also activated. The latest 3D multaradar technology and 360 ° laser sensors reliably warn of mobile radar traps or speed measurements by laser. (segmentable K band, segmentable KA band, X band, Multaradar CD, Multaradar CT, Gatso RT3, Gatso RT4 and laser).
Beginner Mode – Not sure how to use a radar detector? With our recommended settings, you can start using your P1 within seconds after copying the P1R firmware using a USB stick.
PRO functions – For experts and enthusiasts, the P1 also offers an exact band frequency measurement, but also a display of several simultaneous radar measurements as well as the selection and finer segmentation of the individual radar bands for optimized performance.
Best in class intelligent deep filter technology – the NAVTY P1 radar detector has, in addition to the largest radar antenna in its class, one of the best filter systems on board, which enables false alarms to be reduced to a minimum. Compared to other reference devices, the NAVTY P1 achieves advance warning times that are up to 10 times higher than the current multaradar standard. Check it out for yourself.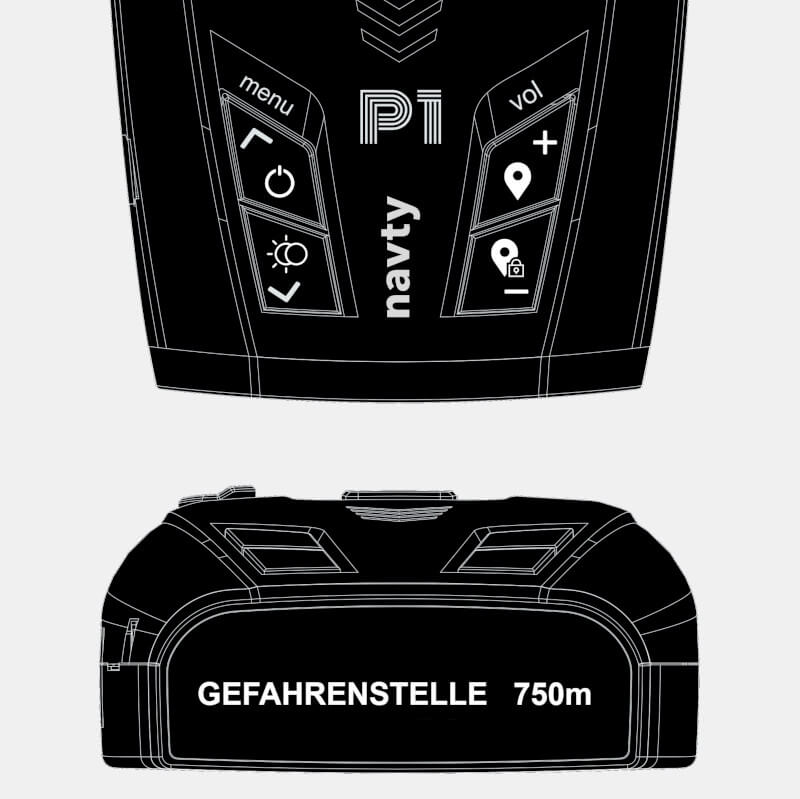 RDD stealth.
Europe-wide legal – in some countries the warning of traffic surveillance is not allowed. So that you can use your NAVTY for performance measurement all over Europe without worries, you can delete the additional P1R firmware at any time with a simple movement. In addition, the P1 RDD is safe and therefore cannot be located electronically via RDD, i.e. using radar detector positioning systems.
Future proof
Lifetime updates included – with the NAVTY Lifetime Version you get lifelong, free access to all of our database and firmware updates. The update of the database and firmware is carried out fully automatically via USB stick and is completed in a few seconds.
Intuitive operation and voice announcement – the language for the menu settings and voice announcements can be selected from German, English, French, Spanish or Italian.
NAVTY satisfaction guarantee
Try it free for 30 days – we guarantee that you will love your P1! We therefore grant every P1 customer an extended withdrawal period of 30 days.
2 year guarantee – we believe in our products. Even after many years of intensive use, we guarantee the full performance of your NAVTY P1 Lifetime. In the event of a problem or defect, our experienced support will be at your side quickly.